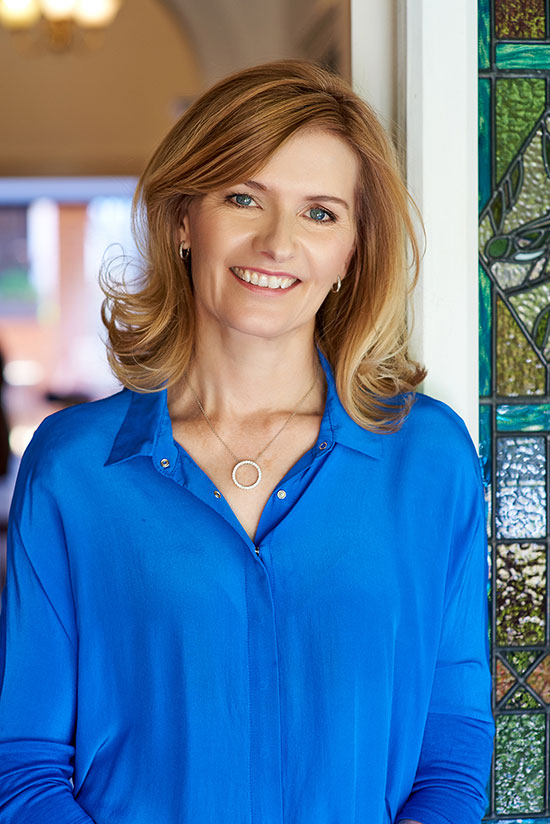 Photography by Fabrizio Lipari
Lisa Jansen.
Clinician. Educator. Advocate.
Wellbeing for optometrists.
There is a growing recognition that burnout and stress is a very real risk for eye care professionals, especially in the early stages of their career when they can often feel torn between their personal values and the expectations of the profession.
This is something Lisa Jansen recognised early in her career as optometry clinician and business owner.
After thirty years in private practice, Lisa has dedicated herself to equipping optometrists and other healthcare professionals with the skills they need for a satisfying, successful and sustainable long-term career in health care.
In addition to developing training programs for optometrists in business management, leadership, communication, and wellbeing, Lisa has run a successful coaching practice, and been in demand as a speaker and writer for the eye care profession.
Currently Lisa works full-time in an academic teaching role at the University of Western Australia (UWA), in their first Doctor of Optometry postgraduate program. She was the first in Australia to incorporate Mental Health First Aid training into the optometry curriculum.
Her university role aligns with Lisa's belief that building resilience and educating optometrists on mental health and wellbeing should begin during their student years and is critical to sustain longevity in the workforce and provide safe patient care. Lisa inspires future leaders in optometry through a holistic and innovative approach to learning, focused on interpersonal, wellbeing and resilience skills.
Check Out the Latest from the Blog
Lisa Jansen has immense knowledge regarding practice management, mental health, workplace culture, communication styles and human behaviour. Lisa taught me the importance of emotional intelligence, understanding of self, interpersonal skills, creative and innovative thinking, which has enabled me to develop communication and leadership skills.  With Lisa's help, I further developed strengths which include resilience, adaptability, personal ethics and attention to detail. Lisa also trained me in the development of a strategic resume and impactful career storytelling, allowing me to have a positive impact during job interviews. The skills I have learnt have advanced my career as a Senior Lecturer, and now Course Director, at The University of Western Australia. The acquired knowledge has improved my ability to be an efficient team member, use the available data, follow a framework and provide solutions.

Burnout and other mental health conditions are particularly prominent in early career optometrists. Using her knowledge and training as a Mental Health First Aid instructor, Lisa has found innovative ways to incorporate the procurement of the skills necessary to build resilience for our students.

I served on the Optometry Australia Board for over a decade, and as President for the last three years of that journey. In that time, Lisa became involved in the educational side of the organisation by way of her involvement in educational seminars, webcasts, and direct communication with member optometrists. Lisa established a strong reputation in the organisation and in the wider industry for her teaching and leadership talents.

Lisa helped turn around one of our practices from being a loss-maker, to being profitable in just three months. She quickly identified several areas that needed attention after meeting with the Partners and key staff. Lisa created a clear plan of action and assisted with its implementation. One of the crucial steps was communicating the changes to our staff. Having Lisa as a respected and independent party, the staff were receptive to the strategies recommended.  She assisted in motivating the staff to work together as a team, feeling supported.  Six months later these changes in attitude appear to be lasting. The pace at which the positive change occurred definitely surprised us and exceeded our expectations. Lisa is a very effective instigator of change. Her knowledge of Optometry and sound business practices, combined with her skills in personal coaching made her the perfect choice for us. The shareholders of the practice are now able to enjoy the financial rewards of restored profits, reduced stress levels, improved staff cohesion and more time to focus on our patients.

Our practice turned around from the threat of closure, to profit making in a matter of months. Lisa identified key problem areas during her initial assessment. As a "neutral" person leading the discussions, the staff felt less threatened and were able to contribute  suggestions and to improve performance. This allowed them to take ownership of the solutions and work as a team towards a common goal. The end result has been a reduction in stress levels for everyone, as well as staff working together with a mutual respect for each other. Systems and processes have been set up to support all of us and allow better communication. As a result, job satisfaction has improved. The business has had a marked increase in turnover, exceeding our targets and even receiving "branch of the month" a few times. So many things have now fallen into place. On a personal note, I am so grateful for Lisa's help.

What most inspired me to work with Lisa was needing to move from having knowledge to taking action. It was difficult for me to find a way from knowing to doing. Lisa helped me to stay accountable and organise the planning aspects behind getting things done. I felt that I was able to discuss important aspects of my business, in confidence, with someone who was working in my best interest. Lisa had the experience of being a busy business owner as well as juggling other aspects of life, and she understood the difficulties of finding balance. Lisa was able to help me better understand human behaviour, and how to help my staff to move forward with me with a growth mindset. I am now delegating tasks and empowering my team, which frees up more of my own time to get my things done. The overall result of working with Lisa has been much more confidence in my business strategies. I have a plan to move forward and I know when we are on the right track. My business has reached its financial goals and I see that we have the potential to continue growing. Lisa is warm and encouraging. I look forward to working with her again in the future.

I chose to work with Lisa, as she has specific knowledge in my industry. My challenge was to implement a dry eye clinic. Lisa was very supportive and knowledgeable. She listened to my goals and talked me through ideas of what I have previously tried. She had steps to follow through, which made me re-visit my initial implementation plans, as well as how my team was feeling and acting in each patient interaction She helped me engage the team better, to ensure they were all as motivated and focused as myself The unexpected benefits to me were wonderful! Through spending some extra time to communicate better with our health referral network, we started to see patient referrals from new sources for all types of eye care. The results were great. We have had 300% growth in dry eye patients treatment plans! I am very happy with the improvements and would recommend Lisa to other practices looking to develop their practice.

Our established business had reached a plateau. We knew we needed to change to achieve growth. We were so busy consulting with patients, running the business and looking after family that we lost track. Lisa brought us back on track. Our growth was over 20% in the three months working with Lisa. We chose to work with Lisa as she is an optometrist with experience in managing optometry businesses, not just any business. Lisa first helped to remind us of our purpose so we could clearly see 'why we do what we do'. She kept us accountable as we set our goals, then checking in to keep us on track to achieve the goals we set out. We highly recommend Lisa to any practice owner who wants to grow or needs a fresh direction for their business